Whimsical trees and imaginary flowers dot the canvas of my latest painting. The sky seems to be a lively explosion, shades of blue everywhere. Titled: Beauty for Ashes, this is my most recent painting in the Statement Series. If you're not up to date on the premise of this series here's the short version (or you can read the longer version here): each painting composition is initially constructed with words. The letters from the words work together to create shapes and forms. The title of each painting indicates the words that were used to construct the piece. So, hidden in this painting are the actual words "Beauty for Ashes", though it is not my intention for you to be able to identify them in the finished piece.
I'll start by saying I like this piece. The prettiness of it, however causes me a lot of inner struggle. I have fears of creating work that is too pretty, or perhaps not controversial enough. A feeling of inherent wrongness seems to confront me when I look at this image. In reflecting on the work I realized something, I was more so focused on what the painting WAS NOT. So, I stopped myself and asked, what IS this painting? Three words came to mind… this painting is: soothing, inviting and hopeful. These traits are things I aspire to, and when I think about the motivating statement of this piece, the starting point, I realize that hope is the basic concept I was addressing here. The final image is a reflection of, a visual representation of, the gift of beauty for ashes. The idea that something worth living for can arise from a heap of ash… that is a concept I can cling to. The truth that I can trade a handful of burnt nothingness, for love and wholeness, inspires me to continue forward down a path that is often unclear and marked with danger.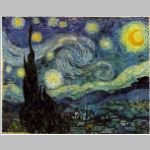 The trees in this painting remind me of the Cyprus tree from Van Gogh's Starry Night. I seem to have borrowed that visual sense of motion from him, yet another reality that prompts me to devalue my piece (on account of the stolen idea). Perhaps these are the little voices hard a work attempting to keep me from creating the work I was born to do.
Whatever the case, I am mentally sorting through ideas for the next several paintings in this series. The next three or four pieces should appear very similar to Beauty for Ashes. I'm looking forward to seeing the progression from one painting to the next. And hope to continue learning and pressing into my inner conflict--it seems the creativity dwells in these spaces... now I must simply learn to find comfort there too.